Product List
Contact Us
Add: NO.8 Jinniu Road, West Industry Zone, Huangyan, Taizhou, Zhejiang, China.
P.C: 318020
Tel: +86-576-84195776/84190477
Fax: +86-576-84195779
Home > Products > Shut-off nozzle perform mould>48 Cavities Pin-Valve PET Preform Mold With Hot Runner (HX-1001)Products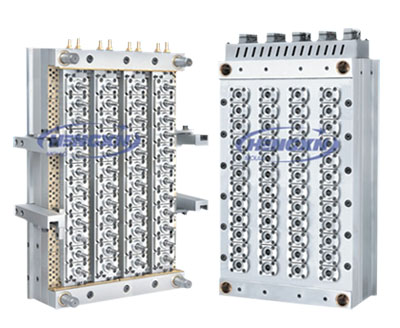 48 Cavities Pin-Valve PET Preform Mold With Hot Runner (HX-1001)
【PRODUCT EXPLAINED?/strong>
1. Ranges from 1 cavity for wide mouth jar and gallon bottle perform mould up to 72 cavities narrow neck perform mould with hot runner system.

2.Advanced hot runner design, cooling water system and even heating temperature make sure the high quality of plastic products.

3. Electric control system with simulating stretch testing improve yield rate.

4.Air-driving (pneumatic) system and pin-valve gated type without tail reduces the labor intensity.

5.Adopt world advanced two-step dual taper localization technique, each cavity self-clamp independently, ensure mould concentricity.

6. Material of mould core and cavity are made of Germany special mould steel after preheating treatment.

7. International standard screw neck, imported nitrided steel with high hardness and long life usage.

8. Graphited copperplate and copper sleeve to reduce wear and tear.

9.At least 3 million guarantee.

Copyright 2008-2009 © Zhejiang Taizhou Huangyan Hengxin Mould&Plastic Co., Ltd. All Right Reserved | Powered by: PlasticMould.NET